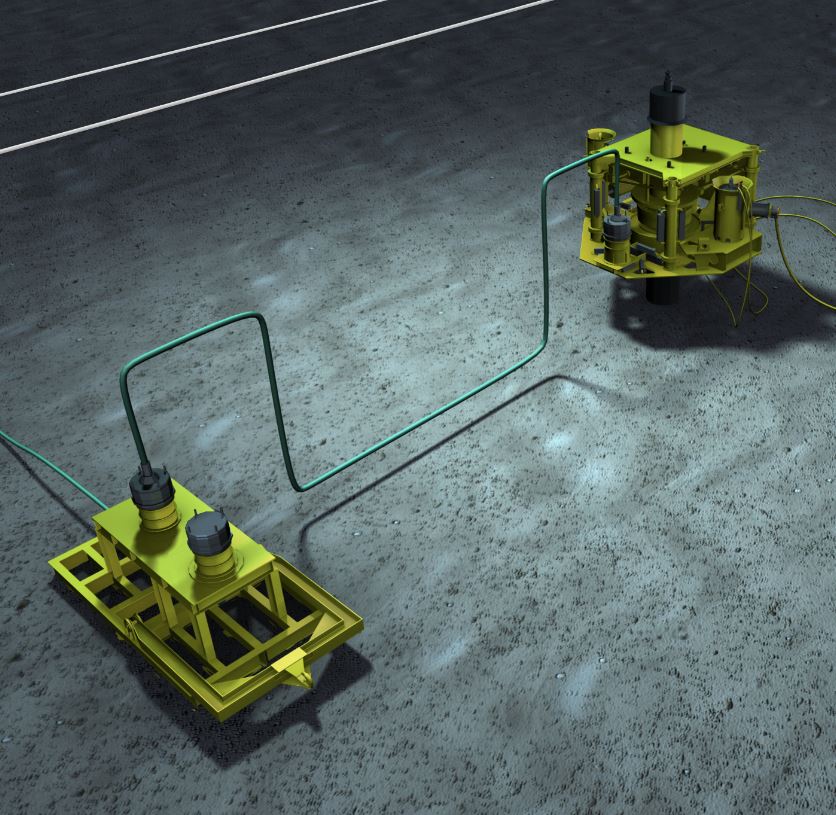 Rigid pipeline jumpers are a reliable means to connect a variety of subsea structures such as well trees, pipeline end terminations (PLETs) and manifolds. Jumpers readily accommodate the tolerances required when installing this equipment as well as the mechanical and thermal loads imposed over the life of a subsea production system.
A rigid jumper typically consists of customized piping, pipe bends or blocks, remotely operated connectors, and at times a flowmeter and other instrumentation packages. These components are configured in such a way to provide compliance during installation and operation.
Considerations in the jumper design process include:
Production fluid conditions such as pressure, temperature and flow rate

Production fluid chemistry and corrosive and erosive characteristics

Thermal insulation for flow assurance

External corrosion potential

Extreme and long term environmental conditions (primarily current)

Span and relative orientation (pitch/roll) of the of subsea structures being connected

Settlement potential of the subsea structures being connected

Workover requirements on trees (BOP clearance) during the life of the subsea production system

VIV (vortex induced vibration) possibilities

Installation (rigging height, lengths, weight, etc).
The above information is used to size the pipe's internal diameter and wall thickness, or cross section, and develop a jumper configuration that meets the design criteria from codes of practice such as ASME B31.4 (oil transport) and ASME B31.8 (gas transport). In the U.S., jumpers must meet the same criteria as pipelines and have an approved pipeline permit, then each one is assigned a unique segment number.
Jumper Fabrication
A jumper is fabricated as a "kit' at (usually) onshore facilities. The jumper kit is based on anticipated subsea structure locations and incorporates sufficient margin to allow preliminary fabrication to proceed while subsea structures are being installed. The connectors used for rigid pipe jumpers are the same types as those used for flexible pipe jumpers and flowlines. Once the subsea structures are installed, metrology is performed between the structures to generate an accurate measurement of distance and relative elevation, pitch and roll between the subsea connection points. The jumper kit is then modified accordingly to mimic the metrology results (either offshore on site or onshore in the fabrication facility).
Jumper Installation and Testing
After fabrication and before installation, the jumper is hydrotested to 125% of its design pressure for an 8-hour period. A stabilized pressure will confirm all jumper components are rated to the specified design pressure, and the connectors will properly seal against the hubs.
Rigid jumpers are lowered and installed with a vessel crane, landing the connectors on the hubs of the subsea structures to be linked together. Vessel ROVs are used to latch the connectors onto their respective hubs, either mechanically or hydraulically, depending on the connector type. The ROV(s) then perform a back-seal test, pressuring up hydraulic fluid against the outside of both connector gaskets to verify that the connections are sealed.
Following successful back-seal tests, a 2-hour jumper leak test is performed at the jumper design working pressure. The leak test can be performed by pressuring up the pipeline from the platform and closing the tree isolation or wing valve, or by pressuring up through the umbilical, tree and jumper, and closing the PLET/manifold valve. Other alternatives also exist for the leak test involving vessels at the well location. Once pressure has been stabilized and maintained for a minimum of 2 hours, the rigid jumper is considered to be successfully installed and ready for production.
Ocean Flow International is an established subsea project management and engineering company founded in 2000, with clientele mostly being independent and multi-national oil and gas operators. This includes field architecture planning, detail design and operations. OFI also provides overall fabrication, installation, and pre-commissioning oversight, as well as onshore and offshore inspection services.